Living in Santa Barbara I am often told we don't have real seasons here but I beg to differ. Fall may be more subtle here and often we can get unexpected days of summer heat but our weather gets cooler, our leaves change, the air smells crisper. Today we are awaiting a bit of rain and it's the first day in a long time I'm wearing a chunky sweater. No better day to have a little Fall blog round up.
I don't get very creative with my nails in terms of nail art although I like unusual colors so I already had this bright orange and adding the jack-o-lantern face was super easy using a black nail pen from the drugstore. I'm so happy with how this looks, isn't it cute?
My first ever blog post
almost two years ago was about roasted pumpkin seeds. Roasting pumpkin seeds is an annual tradition in my house. Last year I decided to revamp my roasted pumpkin seed post. It has since become my most popular post. Some of my posts only get a few hits put this one has THOUSANDS. It's also my most pinned picture on Pinterest. Around this time of year people start to come up to me ask ask for the recipe, and no wonder...the recipe is the BEST! See it
here.
My sweet daughter/model


A few days ago I made these awesome candy corn rice krispie treats. The best part about them is that the yellow tastes like lemon and the orange like orange (and the snozzberries taste like snozzberries....sorry, couldn't resist a little Veruca Salt here.) Anyway, I love citrus desserts.
Here is the recipe I used.
Rice Krispie treats recipe
The only thing I changed is using the larger portion for both the orange and the yellow. I actually thought I would use a little more yellow, it got thin here and there. Another tip is that it was very hard to shape the colors into the cake pan without making a sticky mess and almost ruining my manicure! I used wax paper to press the colors into shape and that worked well.
I finally made earring to match my best selling bracelets (in the manicure picture above.)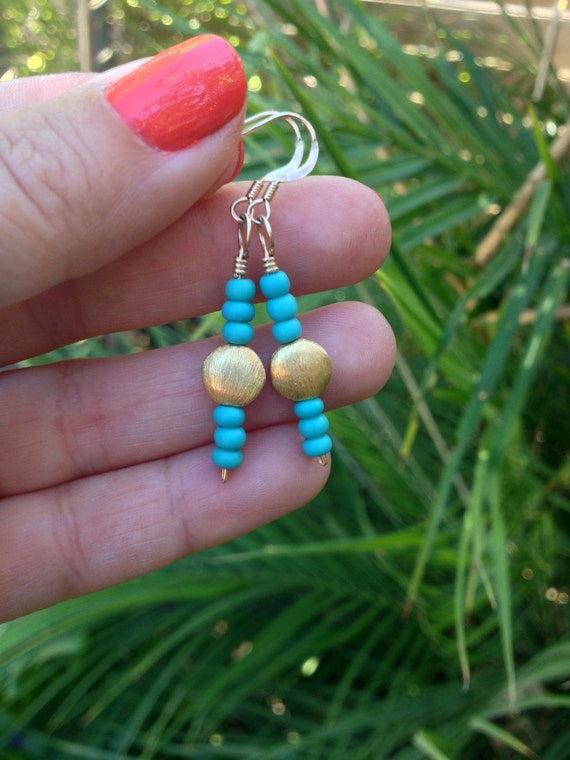 See them for sale
here
We still have more pumpkin carving and lots of school activities this week. And looking forward to trick or treating on Thursday.
Hope you are all having a lovely week!